The promotional meeting of the Hatay State Official Gazette Facsimile, prepared by the Press Advertisement Institution (BİK), was held in Hatay.
The event, which took place at the Hatay Governorship Assembly Culture and Art Center, was attended by the Hatay Governor Rahmi Doğan, the Hatay protocol, BİK General Manager Rıdvan Durak and many guests.
BİK Corporate Communications Counselor Cihat Zafer Demirel, Prof. Dr. Zakir Avşar and Assoc. Dr. Mücahit Küçükyılmaz evaluated the establishment process of the first newspaper in the history of the Hatay State.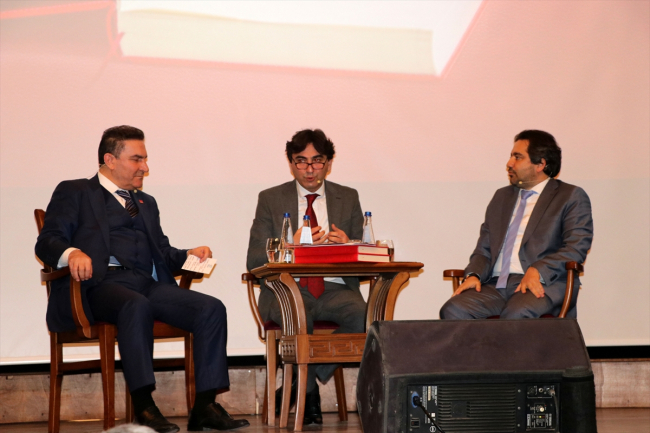 After the speeches, the Hatay State Official Gazette book was presented to the protocol members.
89 issues came out
The Hatay State is a Turkish state that was established on September 2, 1938, with the declaration of independence by the Sanjak of Iskenderun, and became a province again by joining Turkey on June 29, 1939. During this period, it was named as Hatay State and the legislative body of the state was formed and its Official Gazette was published.
In Iskenderun Sanjak, the Constitution came into force in November 1937. With the start of the independent state process of Hatay, the efforts to establish the necessary infrastructure gained momentum, and the need for an official newspaper arose for the publication of the official legislation.
For this purpose, an official newspaper was created to be published once a week in three languages, Turkish, Arabic and French, under the name of İskenderun Sanjak Ceride-i Resmîye, and the newspaper was published on Thursdays every week.
The Hatay State Official Gazette continued its existence with great difficulties and had 89 issues. Although it was published as 24 pages most of the time, the number of pages changed from time to time due to the conditions of the period.
prof. Dr. Zakir Avşar and Assoc. Dr. M. Mücahit Küçükyılmaz prepared a two-volume comprehensive book on the history of the Hatay State as a facsimile after a long study and presented it to the attention of the readers.
Hatay State Official Gazette is a complete historical book
As a comprehensive, detailed and tidy study on the history of the Hatay State, this work was created with a great team and effort to be presented to the attention of researchers, readers and enthusiasts.
It is possible to reach the book in the publications section of the Press Advertisement Agency website.
.
---