Nationals won one of 7 matches, 5 of which were official and 2 of which were private, against Latvia, they drew in five and lost one.
The last 5 matches between Turkey and Latvia ended in a draw.
Turkey got its first and only victory in 1924
The first match between the national football teams of the two countries was held in Riga on 22 June 1924. Turkey won the special match 3-1, Zeki Rıza Sporel scored all three of the goals of the crescent-star team.
In the 2004 European Championship Qualification play-off jump-offs, Latvia won 1-0 in the match held in Riga on 15 November 2003.
Turkey, who took the lead 2-0 in the second leg match held at BJK İnönü Stadium in Istanbul on 19 November 2003, could not maintain its superiority and the match ended 2-2 with 2 goals in the castle. Turkey, which was shown as the absolute favorite in the match, lost the final ticket to Latvia as a surprise.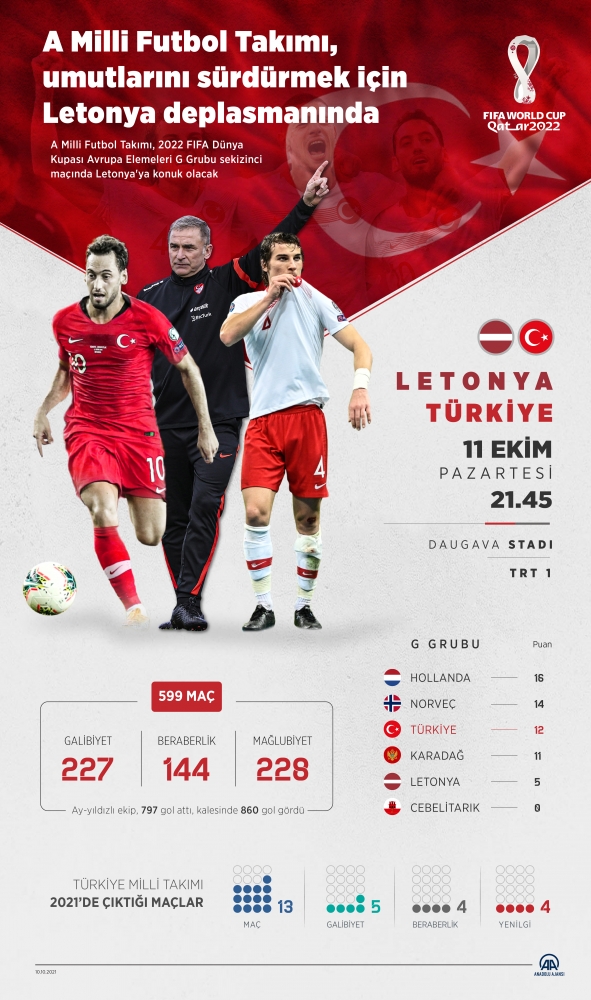 Turkey and Latvia met in a special match on May 28, 2013 in Duisburg, Germany. In the match that ended 3-3, Turkey's goals were scored by Olcay Şahan, Selçuk İnan and Veysel Sarı.
The match played in Riga on 13 October 2014 in the 2016 European Championship Qualifiers ended 1-1. The goal of the crescent-star team came from Bilal Kısa. The other match of the group played in Konya on September 3, 2015 ended 1-1.
The national team, in the 2022 FIFA World Cup European Qualification Group G Group, hosted Latvia on 30 March 2021 in Istanbul, but left the field with a 3-3 draw despite taking two different lead.
.
---