Expressing that TEKNOFEST, which will be held for the 5th time next year, is important for them, Samsun University Rector Prof. Dr. Mahmut Aydın said, "TEKNOFEST has emerged as a product of Turkey's national technology move. The national technology move is actually a move to say 'stop' to the games played on our country."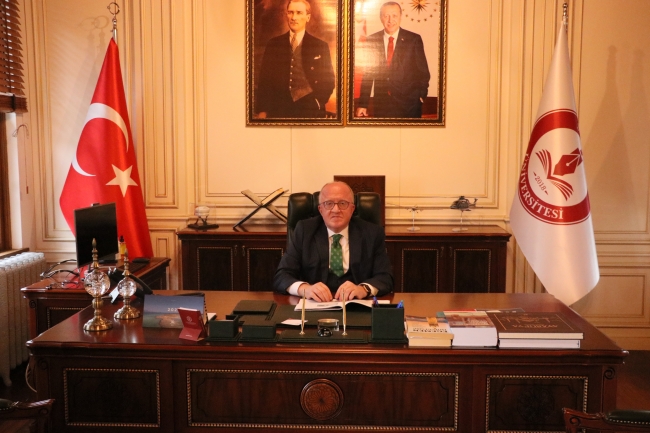 [Fotoğraf: AA]
"With TEKNOFEST, young people have reached the awareness that 'Now we can make all kinds of technology'"
Pointing out that TEKNOFEST provided a mental transformation in Turkey, Aydın continued as follows:
"With TEKNOFEST, we see that our young people have become conscious (Now, we can also do all kinds of technology, we can adapt all kinds of developments to ourselves, even better than it). "We can only use weapons made by others. We can only use technology products made by others. We can only ride vehicles made by others, but now TEKNOFESTs and the national technology move have completely changed this. We do it, we do better, we do the most advanced."
Pointing out that no UAVs were delivered to Turkey, but national UAVs were built, then further developed and produced SİHA and TİHA, Aydın said, "TB1, TB2 and finally Akıncı unmanned aerial vehicle entered the inventory of the Republic of Turkey. At this point, we are in the top three in the world. There is an important point here, as soon as we stop, others will overtake us. In order not to stop, we need to produce new brains. These brains will also emerge at TEKNOFEST. These young people need to be paved and supported. These children will quickly keep up with this transformation and catch up with the most advanced technology. ' he said.
"New Selçuk Bayraktarlar, our young people with more capacity will grow"
prof. Dr. Emphasizing that Gaziantep sent more teams to the competitions after TEKNOFEST and they expect this increase in Samsun, Aydın said, "I hope 4-5 thousand teams from Samsun will participate in TEKNOFEST, which will be held in Istanbul in 2023. More of our young people will attend this event. He will enter the process. Maybe new Selçuk Bayraktarlar, young people with more capacity will be raised. With these, maybe we will challenge the world and serve humanity," he said.
Stating that Samsun University is a 4-year university and that they have received many awards by participating in TEKNOFEST since 2018, Aydın said, "This is the city of the National Struggle. Just as the first step towards independence in the National Struggle was taken here, the first torch was lit here. If this is the milestone, I believe that Samsun will be an important milestone in the process that will contribute to our country's being in the top league leading to technological independence."
.
---