In the concert organized by the Madrid Yunus Emre Institute as part of the 2021 Yunus Emre and Turkish Year events, in addition to the works in the form of twelve hymns composed in segâh, hicâz, sabâ and Hüseynî makams, samples of Yunus Emre's poems translated into Spanish were read.
Madrid Yunus Emre Enstitüsü Director Ersin Adıgüzel accompanied the Spanish-based Labyrinth Ensemble music ensemble, formed by musicians from different countries.
Great interest from the participants to the concert
The concert held in Corral del Carbón, which was built as a caravanserai during the Andalusian period and now hosts cultural and artistic programs, attracted great attention from the participants.
Madrid Yunus Emre Enstitüsü, which has been serving in the Spanish capital since 2018, has been organizing online courses for over a year due to the global epidemic. The center, which provides education at many levels from A1 to C1 levels, teaches Turkish to hundreds of trainees. Madrid Yunus Emre Enstitüsü also organizes various cultural and artistic activities in addition to language teaching, and represents our country in international festivals.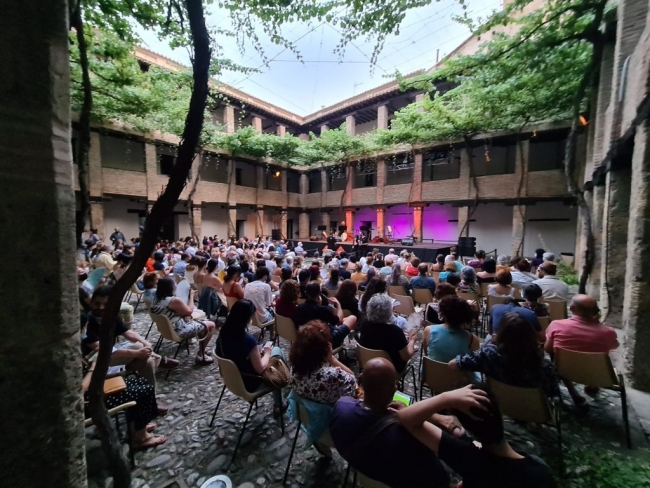 [Fotoğraf: TRT Haber]
One of them was the International Granada Festival. The festival, one of the most prestigious and important organizations in Spain, hosted artists from various countries despite the pandemic conditions. Representing Turkey for the second time this year, Yunus Emre Enstitüsü was followed with interest at the festival it participated in as part of the 2021 Yunus Emre Year events. Presenting Yunus Emre's message of universal love, brotherhood and friendship to the attention of people, the Enstitü drew attention to this universality by participating in the festival with a group of musicians from different countries. In line with the measures taken due to the epidemic conditions, the concert, which was held with a limited number of participants, was followed with interest.
About Yunus Emre Institute

Yunus Emre Enstitüsü, which started its activities in 2009 with the aim of promoting Turkey, Turkish language, history, culture and art and providing all kinds of services abroad in this field, undertakes a major task in promoting Turkey.
.
---