According to the 24-hour data recorded on November 25, 24,467 cases were detected. The death toll rose from 175 to 222. While the number of patients recovered was 29 thousand 639, a total of 363 thousand 43 PCR tests were performed.
The Ministry of Health shared Turkey's Daily Coronavirus Table. According to the last 24-hour data announced on November 25; 24 thousand 467 new cases were detected. The death toll was determined as 222. While 29 thousand 639 patients whose treatment was completed were discharged, 363 thousand 43 tests were performed today.
"Some of us act as if there is no epidemic"
Minister Koca also shared about the case table on his social media account. Minister Husband, "We had to get used to the fact that life would continue under epidemic conditions for a while. Most of us have achieved this adaptation. Some of us choose to act as if there is no epidemic. What is right for all of us is to comply with the conditions of combating the epidemic while bringing life closer to normal." said.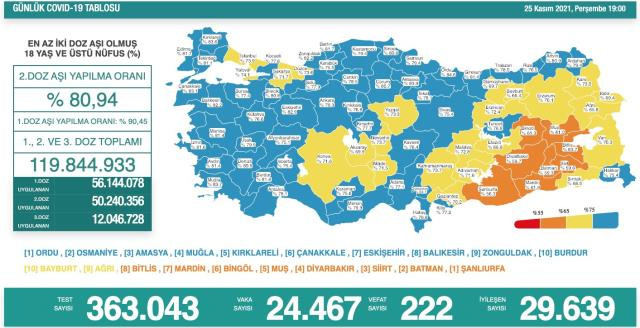 2nd dose vaccination rate was 80.94 percent
Vaccination data are also included in the table announced by the Ministry of Health. According to the data covering the population over the age of 18 who have received at least 1 dose of vaccination, the rate of 1st dose vaccination in Turkey was 90.45 percent on average. While the average of the second dose was 80.94 percent, the number of citizens who had the 1st, 2nd and 3rd dose vaccines increased to 119 million 844 thousand 933 in total.
.
---