It has been one year since the world-famous legendary football player Diego Armando Maradona passed away on November 25, 2020, in the city of Tigre, in the province of Buenos Aires, Argentina, due to heart failure and pulmonary edema.
The investigation, launched after the sudden and suspicious death of Maradona, who had brain surgery in November 2020 and was kept under observation at home, is still continuing, accusing the medical team of the legendary football player.
As part of the investigation, Maradona's doctor, neurosurgeon Leopoldo Luque, psychiatrist Agustina Cosachov, psychologist Carlos Diaz, coordinator doctor Nancy Forlini, nurses' supervisor Mariano Perroni, and nurses Ricardo Almiron and Dahiana Madrid are accused of "causing the death" of Maradona.
If the investigation, which heard 80 people, including Maradona's relatives, turns into a trial and the defendants are found guilty by the court, these people could be sentenced to 8 to 25 years in prison.
According to Argentine law, the deadline for the submission of the investigation opened by the San Isidro prosecutor's office, which can be extended for another 4 months, to the court to turn into a lawsuit, expires on 14 December.
In the report of the medical board, consisting of 20 experts investigating Maradona's death as part of the investigation, it was stated that the medical care of the legendary football player was insufficient and his health was "left to fate".
Known to struggle with addictions such as drugs and alcohol, Maradona's autopsy report stated that he had not taken alcohol or any drugs before his death.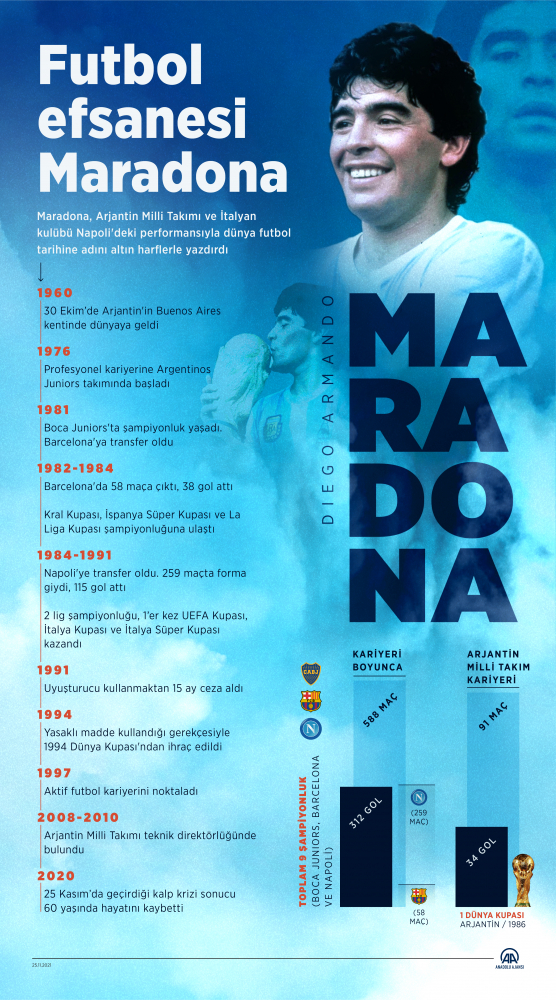 [Fotoğraf: AA]
Maradona's legacy
Maradona, whose legacy has not yet been fully determined, is estimated to have $6 million registered.
Mario Baudry, the lawyer for Maradona's younger son, said on a television show he attended that it was not known what happened to the $ 6 million because the spending summaries were not brought to justice.
It is also known that Maradona has safe deposit boxes in Dubai, Switzerland, Belarus, Italy, Mexico and Argentina.
Maradona has 5 heirs, including his younger son Diego Fernando Maradona, Jana Maradona, Diego Maradona Jr, Giannina and Dalma Maradona, whom he adopted in 2016.
Maradona's belongings to be auctioned
With the agreement of the heirs of the Argentine football player, Maradona's two properties, vehicles and personal belongings will be auctioned on 19 December to pay off his debts and expenses.
With the online auction, Maradona's houses in Buenos Aires and Mar del Plata that he gifted to his parents, 2 BMW luxury vehicles, one of which has his signature, and a Hyundai H1 model car will be sold.
In the auction, which will be open to international participation, special items such as the letter sent by Fidel Castro to Maradona, signed jerseys, soccer balls and watches given to Maradona will also find their new owners.
The world-famous former football player Maradona, whose death was among the most important events of 2020, was buried next to his parents in the Bella Vista Cemetery in Buenos Aires province.
.
---