The Şehreban Hatun Mosque and Qur'an Course, whose restoration has been completed, includes a library, dormitory area, Qur'an course, fountain, imam and muezzin lodgings, and a 2200 square meter complex with a disaster management center.
The headlines of President Erdogan's speech here are as follows;
"These masjids and mosques will almost become schools and madrasas for our children," he said.
I wish the mosque built by Tahsin Karademir in the name of his mother will be beneficial to all Muslims. Karademir built this mosque with a beautiful architecture. He made this available to our children, all our neighbors, Muslims, together with the Qur'an Course. God bless them. As our Lord has said, 'Whoever builds a mosque for me in this world, I will build a house, a bayt for them in Paradise.' Our Lord says so, and of course, we have to make these preparations together with those who have the opportunity, we are doing it, we will do it. As the state's request, we continue to build our masjids and mosques all over our country with the support of all Muslims, and we will continue to do so. Of course, these masjids and mosques will almost become schools and madrasas for these children. Without further ado, I wish God's mercy on our mother Shahriban and her past. In addition, I invite all those who have the opportunity to participate in such a mobilization.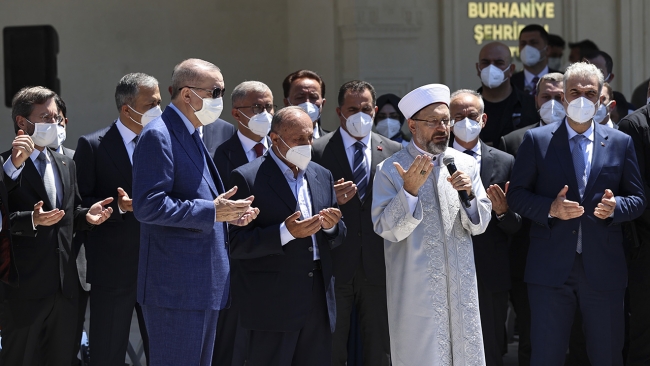 "Urban transformation" call to residents of Burhaniye Neighborhood
In the meantime, of course, I would like to make a special request from all our neighbors and residents of Burhaniye Neighborhood, as their President. I say; I want to help our municipality, as well as the Ministry of Environment and Urbanization, at the point of urban transformation and change to get rid of the problems of all the houses and these roads here as soon as possible. I say let's do it quickly, let's finish them too.
President Erdoğan performed the Friday prayer at the Burhaniye Şehirban Hatun Mosque in Üsküdar, where he opened it.
Presidential Communications Director Fahrettin Altun, Istanbul Governor Ali Yerlikaya, Provincial Gendarmerie Commander Brigadier General Nuh Köroğlu, Provincial Police Chief Zafer Aktaş, Beyoğlu Mayor Haydar Ali Yıldız, Üsküdar Mayor Hilmi Türkmen, AK Party Istanbul Provincial Chairman Osman Nuri Kabaktepe. also accompanied.
.
---