Before the promotion to the Super League with Altay, Hüseyin Eroğlu said that they eliminated a strong team like Samsunspor in the play-off semi-finals and that they will face a team with a strong past in the final.
Eroğlu stated that Altınordu-Altay final is important for Izmir and Turkish football.
"In the final, Altay seems to be the favorite, in terms of staff and name, but we have come here with our game system, our plan and developing our players. In the final, we want to play the best level of this development. It is not easy, of course, the finals, maybe the extension, the penalty part. There is football. The story of the match can go elsewhere. We are ready for anything. "
Eroğlu reminded that they have no defeats against their rivals who are in the playoffs this season.
"One of our great strengths is that this year is a season in which we play against the strengths of the opponent in terms of system, by improving and changing our options in the field, and switching from system to system. I think we are successful in this."
"We aim to return as champions"
Eroğlu stated that the players reflected what they wanted throughout the season on the field.
"Again, this match will also have a different strategy. In my opinion, the opponent has two very important players like Paixao and Kappel. We are also very strong as a team. I hope we aim to come back from the final as the champion."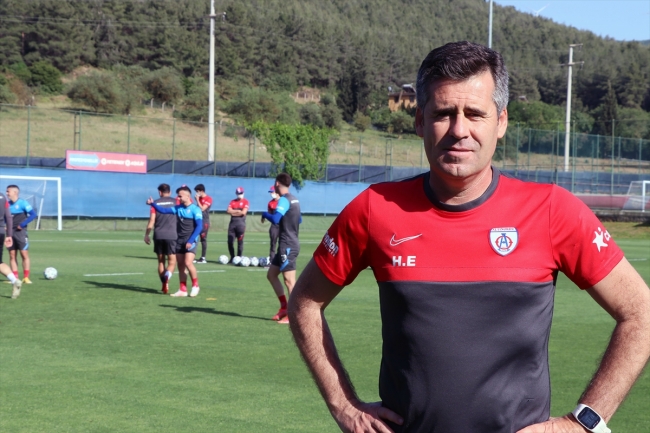 [Fotoğraf: AA]
Eroğlu noted that they worked with club president Seyit Mehmet Özkan for 5 years in Bucaspor and 9 years in Altınordu.
"It is not easy to continue in this stability in our country. There is mutual respect and trust. It is not easy to work in a club for 9 years. We have a structure that constantly renews itself, develops, develops players, not only equity in this difficult league, but also brings the transferred players to Turkish football. At the moment, there are not only footballers, but also coaches and managers who have been trained in Turkish football from Altınordu. This will increase even more.
Eroğlu will play in Altınordu's 332nd match
Hüseyin Eroğlu, who started to work in Altınordu in the 2012-2013 season and moved the team from the 3rd League to the 1st League, is preparing to leave his 9th season behind in the club. Eroğlu played 331 matches with the İzmir representative in the league and the cup. The experienced coach, who will take part in the 332nd competition with the Altay match tomorrow, stands out as the most stable name in professional leagues recently.
Eroğlu suffered 153 wins, 86 draws and 92 defeats in 331 matches with Altınordu. In these competitions, he scored 532 goals and saw 377 goals in his goal.
Experienced names of Altınordu focused on the last 90 minutes for the Super League
Continuing with Turkish players since the 2014-2015 season when it was promoted to the TFF 1st League, Altınordu brought many names from its infrastructure to Turkish football in this process.
Competing with an average age of 25.3 according to the squads in the matches this season, İzmir representative will face Altay in the play-off finals.
In the İzmir representative, who will continue on his way with Turkish football players even if he goes to the Super League, 3 names of those who played this season received Super League visas with the teams they had fought before.
Among these names, Recep Aydın, Konyaspor in 2012-2013 and Kardemir Karabükspor in 2015-2016, Ahmet Dereli in 2015-2016 Adanaspor and Ahmet İlhan Özek also experienced the enthusiasm of promoting to the Super League with Gençlerbirliği in the 2018-2019 seasons.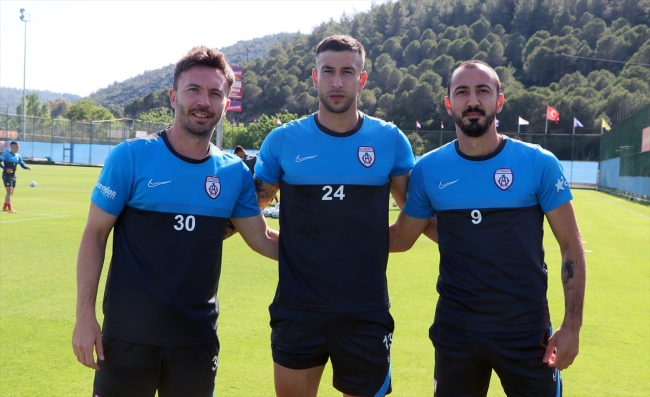 [Fotoğraf: AA]
Sinan Osmanoğlu is seeking promotion for the third time
Sinan Osmanoğlu, who entered the TFF 2nd League from the TFF 3rd League with Bayrampaşa, who was on loan after he became a professional in Galatasaray, has been separated from Altınordu, which he transferred in 2012-2013, for only 1 year since that season.
Experienced football player Altınordu, who played in Gaziantep in 2017-2018, won the TFF 3rd League in 2012-2013 and the TFF 2nd League in 2013-2014.
The experienced defender will try to get a Super League visa with Altınordu in tomorrow's match.
Recep Aydın: We want to achieve victory
Recep Aydın, one of the players who managed to get to the Super League before, said that they were very excited before the final match.
Recep Aydın stated that their promotion to the finals can be described as a success story in Turkish football.
"Our young friends and we brothers, together, we have accomplished very good things in great unity. Now we only have 90 minutes left. I hope that we want to achieve victory by doing the best we can and our hearts."
Recep reminded that he joined the team during the halftime.
"Before that, I had championships in Konyaspor and Karabukspor. The taste of this place was very different for me. Because there is an incredibly hard working, hardworking technical team and football players. There is no reason why this should not end up as championship."
Ahmet İlhan Özek: We have 90 minutes left
Ahmet İlhan Özek said that they are happy and proud that they succeeded in making the play-off finals with Turkish footballers and names from the background. Ahmet İlhan Özek noted that they are in a family environment.
"We are in the final, we have the last 90 minutes left. I want to be the champion incredibly here. Because we want to prove this to all of Turkey. We want to show where we can come when the infrastructure and the Turkish youth are important. We are very excited, we are waiting for the match to come as soon as possible. "
Ahmet Dereli stated that he was very happy to be a part of Altınordu family and that they reached the finals as a team formed with Turkish players.
"We came to the final by trusting our young brothers and holding hands with them. We want to crown this as well."
.
---