The famous model and actress Gigi and Bella's father, Mohamed Hadid Hadid came to Turkey.
Hadid settled in a hotel in Sultanahmet and prayed in Hagia Sophia and Blue Mosque.
Evrim Kırmızıtaş Başaran, Ömer Faruk Başaran, businessman Hüseyin Çelik and travel writer Saffet Emre Tonguç accompanied Hadid during his trip. Hadid, who took lots of photographs, learned about the architecture and history of the mosques.
Billionaire businessman Mohammed Hadid made a statement to the press before the trip.
For many years, Hadid said he came to Turkey, he lived in Syria until the age of 7 to 9 years, he said that during this time, also improves the Arabic.
Hadid voicing stayed for a while in Iskenderun, Turkey announced that it 20 times.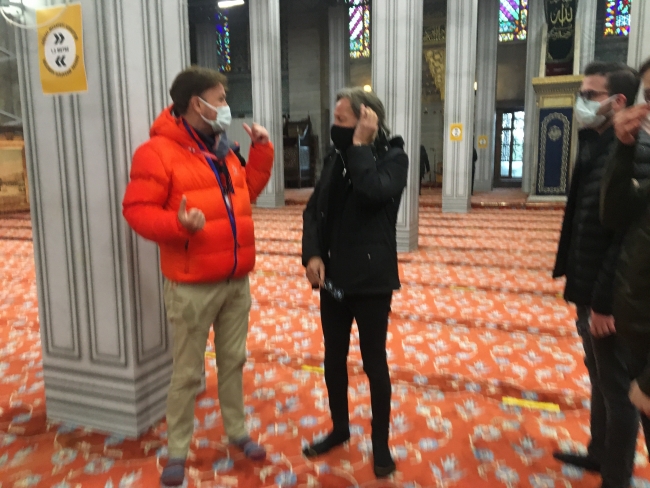 "Turkey is one of the world's most beautiful countries"
Noting that Turkey is an amazing country Hadid, "I love Turkey. I love your food. I love to live that cosmopolitan atmosphere. The scenery is incredible. One of the most beautiful countries in the world. Next time I will come with my children. Together we will explore the beautiful sights of Turkey. Bodrum was one of the places I went to. I want to go to other places from now on. I also want to go to places like Alaçatı, Antalya, Cappadocia and Gaziantep. I especially want to go to Gaziantep. I am curious about the Zeugma Museum. I will visit, "he said.
"This is an amazing country"
Journalists, "Like most anywhere in Turkey?" Answering the question, Hadid said, "This is an amazing country. A place where culture and history are blended. That's why it is so difficult to say a single place. There are museums, palaces and mosques in Istanbul. They're all so nice. People from every corner are discovering hidden treasures. In this context, you can spend 4-5 weeks here. That is why I think it is unfair to say a single place, "he said.
Saying that he will be in Istanbul until Tuesday, Hadid said, "I have to go back to the office after Tuesday. I will go to Los Angeles. I'll definitely bring my kids next time. I will not only bring my children, but also my grandchildren. They are too much. That's why I think to bring a queue "he said.
"Gigi's name is Nur, Bella's name is Hayriye"
Saying that all of her children have Arabic names, Hadid said, "Maria's name is Zayn, Alan's name is Emel, Gigi's is Nur, and Bella's is Hayriye. Bella named her boy Khai. It is the abbreviation of Hayriye. Her son's name is Enver. My name is Muhammet Enver. My son's name is Enver Muhammet. "My 5 children have Muslim names," he said.
.
---